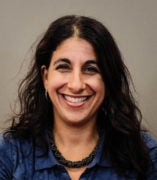 Rachel Poretsky, PhD
Associate Professor
Biological Sciences
Contact
Building & Room:
4100A SELE
Address:
950 S. Halsted St.
Office Phone:
Email:
Related Sites:
About
I am interested in microbial ecology and biogeochemistry, bacterial diversity, and community structure and interactions in natural environments. My research involves exploring the functional diversity of bacteria in marine, freshwater, and other environments through the direct retrieval and analysis of microbial genes (metagenomics) and gene transcripts (metatranscriptomics). By identifying factors involved in the activity and diversity of bacteria, it may be possible to better understand how bacterial communities, and consequently, biogeochemical cycles will respond to environmental changes.
Selected Publications
(Complete list of publications on Google Scholar)
Poretsky, R.S., Dodd, E.T., Pierce, M.L., Lee, J.S.F. et al. Influences of claywater and greenwater on the skin microbiome of cultured larval sablefish (Anoplopoma fimbria). anim microbiome 2, 27 (2020). https://doi.org/10.1186/s42523-020-00045-5
Petrovich ML, Zilberman A, Kaplan A, Eliraz GR, Wang Y, Langenfeld K, Duhaime M, Wigginton K, Poretsky R, Avisar D and Wells GF (2020) Microbial and Viral Communities and Their Antibiotic Resistance Genes Throughout a Hospital Wastewater Treatment System. Front. Microbiol. 11:153. doi: 10.3389/fmicb.2020.00153
Poretsky, R.S., D. Tsementzi, L-M. Rodríguez Rojas, and K.T.Konstantinidis. 2012. Strengths and limitations of 16S rRNA gene sequencing in revealing temporal microbial community dynamics. Submitted to Environ. Microbiol.
Oh, S., A. Caro-Quintero, D. Tsementzi, N. DeLeon-Rodriguez, C. Luo, R. Poretsky, and K.T. Konstantinidis. 2011. Metagenomic insights into the evolution, function, and complexity of the planktonic microbial community of Lake Lanier, a temperate freshwater ecosystem. Appl. Environ. Microbiol., 77:6000-6011.
Poretsky, R. S., and M.A. Moran. Comparative metatranscriptomics of marine microbial communities. In: de Brujin FJ, editor. Handbook of Molecular Microbial Ecology I: Metagenomics and Complementary Approaches: Wiley/Blackwell.
Hewson, I., R.S. Poretsky, H.J. Tripp, J.P. Montoya, J.P. Zehr. 2010. Spatial patterns and light- driven variation of microbial assemblage gene expression in surface waters of the oligotrophic open ocean. Environ. Microbiol. 12:1940-1956.
Dekas, A.E., R.S. Poretsky, and V. J. Orphan. 2009. Deep-sea archaea fix and share nitrogen in methane-consuming microbial consortia. Science 326:422-426.
Poretsky, R.S., S. Sun, X. Mou, and M.A. Moran. 2009. Transporter genes expressed by coastal bacterioplankton in response to dissolved organic carbon. Environ. Microbiol. 12:616-627.
Hewson, I., R.S. Poretsky, S.T. Dyhrman, B. Zielinski, A.E. White, H.J. Tripp, J.P. Montoya, J.P. Zehr. 2009. Microbial community gene expression within colonies of the diazotroph, Trichodesmium, from the Southwest Pacific Ocean. The ISME Journal 3:1286–1300.
Education
PhD, University of Georgia
Brandeis University