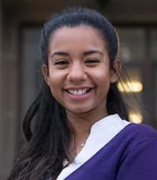 Gabriela Nunez-Mir
Assistant Professor
Biological Sciences
Pronouns: she/her
Contact
Building & Room:
SES 3236
Email:
Related Sites:
About
Biological invasions are one of the major ecological threats in the Anthropocene. Yet, important knowledge gaps remain in our understanding of patterns and processes of invasion, particularly at large spatiotemporal scales. Highly-debated topics in invasion ecology could benefit from a macroscale and multi-scale perspective. Findings produced by macroscale and multi-scale studies may also be essential, as broad level knowledge is often utilized when localized information about the dynamics of specific invasive species or specific environmental contexts are unavailable. My research program leverages the increasing availability of large datasets in combination with advanced quantitative techniques to investigate ecological patterns and processes of biological invasions. Specifically, I study how various aspects of invasion (e.g., traits of the invader, the recipient system and drivers of invasion) operate and interact at large scales. I approach these issues using a variety of quantitative methods, including machine-learning techniques, multivariate analyses, Bayesian statistics and geospatial methods.
Another facet of my work focuses on the methodologies used to synthesize the exponentially growing body of ecological and evolutionary biology literature. Here, I embrace computational techniques used in other fields and applied them to advance traditional methods of literature synthesis in ecology.
Selected Publications
(Complete list of publications on Google Scholar)
Harris, N. C., Murphy, A., Green, A. R., Gámez, S., Mwamidi, D. M., Nunez-Mir, G. C. (2022). Socio-ecological gap analysis to forecast species range contractions for conservation. Proceedings of the National Academy of Sciences, in press.
 Nunez-Mir, G. C., Walter, J. A., Grayson, K. L., and Johnson, D. M. (2022). Assessing drivers of localized invasive spread to inform large-scale management of a highly damaging insect pest. Ecological Applications, e2538.
Nunez-Mir, G. C., Guo, Q., Rejmánek, M., Iannone III, B. V., and Fei, S. (2019). Predicting invasiveness of exotic woody species using a traits-based framework. Ecology, 100(10), e02797.
Nunez-Mir, G. C., Liebhold, A. M., Guo, Q., Brockerhoff, E. G., Jo, I., Ordonez, K., and Fei, S. (2017). Biotic resistance to exotic invasions: its role in forest ecosystems, confounding artifacts, and future directions. Biological Invasions, 19(11), 3287–3299.
Nunez-Mir, G. C., Iannone, B. V., Pijanowski, B. C., Kong, N., and Fei, S. (2016). Automated content analysis: addressing the big literature challenge in ecology and evolution. Methods in Ecology and Evolution, 7(11), 1262-1272.
Iannone, B. V., Oswalt, C. M., Liebhold, A. M., Guo, Q., Potter, K. M., Nunez-Mir, G. C., … and Fei, S. (2015). Region-specific patterns and drivers of macroscale forest plant invasions. Diversity and Distributions, 21(10), 1181-1192.
Education
Ph.D. Forestry and Natural Resources, Purdue University, 2018
B.S. Biology and Biotechnology, Worcester Polytechnic Institute, 2013
B.A. Environmental Studies, Worcester Polytechnic Institute, 2013