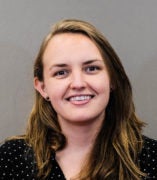 Andrea McGinley, PhD
Clinical Assistant Professor
Biological Sciences
Contact
Building & Room:
4277 SELE
Address:
950 S. Halsted St.
Office Phone:
Email:
About
I am the coordinator for BIOS 223 Cell Biology Lab and BIOS 351 Microbiology Lab. I develop lab exercises that train students in current techniques used to study cell biology and microbiology. By engaging in practical experience in the laboratory and performing hands-on experiments, students gain a deeper understanding and appreciation of Cell Biology and Microbiology.  My goal is to bring these subjects to life, making the invisible world of cells and microorganisms visible and understandable to students.
My past research experience focused on understanding chromatin-based regulation of heart development. The Additional sex combs-like (Asxl) family of proteins bind to chromatin and regulate the expression of many genes during development. Mutations to Asxl genes cause defects in heart development and function, and Bohring-Opitz Syndrome.  Our work demonstrated new roles for two ASXL family proteins in regulating myocardial thickness, ventricular septum formation, and lung maturation.
Selected Publications
(Complete list of publications on Google Scholar)
McGinley, AL, Li, YY, Deliu, ZD, and Wang, QT. (2014). Additional sex combs-like family genes are required for normal cardiac development. Genesis, 52(7): 671-686.
Lai, HL, Grachoff, M, McGinley, AL, Khan, FF, Warren, CM, Chowdhury, SAK, Wolska, BM, Solaro, RJ, Geenen, DL, and Wang, QT. (2012). Maintenance of adult cardiac function requires the chromatin factor Asxl2. Journal of Molecular and Cellular Cardiology, 53(5): 734-741.
Education
PhD, University of Illinois at Chicago
BS, Marietta College
Denison University