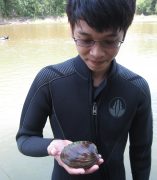 Jer Pin Chong, PhD
Clinical Assistant Professor
Biological Sciences
Contact
Building & Room:
4285 SELE
Address:
950 S. Halsted St.
Office Phone:
Email:
About
I am a teaching faculty and teaching has always been my passion. I am currently teaching BioS 230 Ecology and Evolution and coordinating BioS 310 Genetics Laboratory. BioS 230 provides students an overview of the evolutionary processes that give rise to the biodiversity in nature. BioS 310 is a lab course that covers the fundamental concepts of Mendelian and molecular genetics. This course is designed to provide students with first-hand experience on the molecular lab techniques, such as DNA extraction and sequencing, PCR, bacterial culturing, transformation, and CRISPR. Students will also practice scientific communication and write a hypothesis-based research paper.
My research centered around the conservation genetics of freshwater mussels and plants. I'm interested in applying principles of population genetics to wildlife conservation. Freshwater mussels are one of the most endangered faunas in North America. These organisms have fascinating reproductive strategies that involve a parasitic life stage on host fish. Some mussel species develop modified lures that mimic aquatic invertebrates to attract host fish. I'm currently using molecular data to resolve taxonomic confusion and examine the genetic structure of freshwater mussel and plant populations.
I'm committed to helping international and underrepresented students achieve academic success.
Selected Publications
(Complete list of publications on Google Scholar)
Jinga, P., J. Palagi, J. P. Chong, and E. D. Bobo. 2020. Climate change reduces the natural range of African wild loquat (Uapaca kirkiana Müll. Arg., Phyllanthaceae) in south-central Africa. Regional Environmental Change 20: 108.
Chong, J.P. and K.J. Roe. 2018. A comparison of genetic diversity and population structure of the endangered scaleshell mussel (Leptodea leptodon), the fragile papershell (Leptodea fragilis) and their host-fish the freshwater drum (Aplodinotus grunniens). Conservation Genetics, 19: 425-437.
Chong, J.P., J.L. Harris, and K.J. Roe. 2016. Incongruence between mtDNA and nuclear data in the freshwater mussel genus Cyprogenia (Bivalvia: Unionidae). Ecology and Evolution, 6: 2439-2452.
Mock, K.E., J.C. Brim Box, J.P. Chong, J.K. Howard, D.A. Nez, D. Wolf, and R.S. Gardner. 2010. Genetic structuring in the freshwater mussel Anodonta corresponds with major hydrologic basins in the western United States. Molecular Ecology, 19: 569-591.
Fernandes, É.K.K., C.A. Keyser, J.P. Chong, D.E.N. Rangel, M.P. Miller, and D.W. Roberts. 2010. Characterization of Metarhizium species and varieties based on molecular analysis, heat tolerance and cold activity. Journal of Applied Microbiology, 108: 115-128.
Mock, K.E., B.J. Bentz, E.M. O'Neill, J.P. Chong, J. Orwin, and M.E. Pfrender. 2007. Landscape-scale genetic variation in a forest outbreak species, the Mountain Pine Beetle (Dendroctonus ponderosae). Molecular Ecology, 16: 553-568.
Education
PhD, Iowa State University
MS, Utah State University
BS, Utah State University