Position Available- Professor and LAS Endowed Chair in Natural Sciences – Molecular Microbiology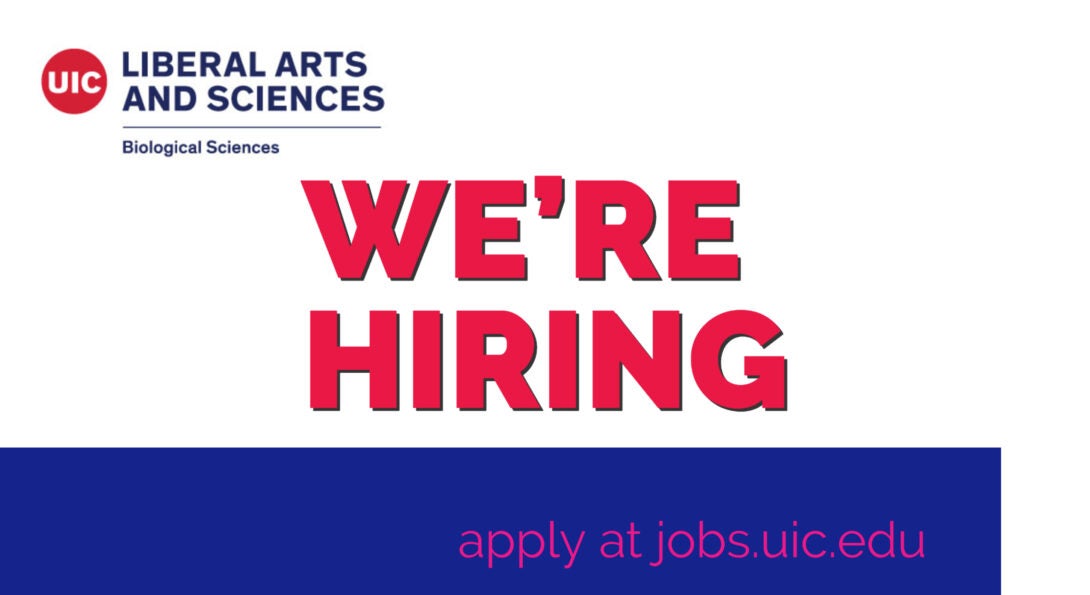 The Department of Biological Sciences in the college of Liberal Arts and Sciences (LAS) at the University of Illinois Chicago (UIC) invites applications for a Professor and LAS Endowed Chair in Natural Sciences in the field of Molecular Microbiology. Candidates must hold a doctorate in a field relevant to Molecular Microbiology and have established an externally funded and internationally recognized research program. The successful candidate will be given a competitive start-up package to establish their research program at UIC and to further develop their research. The successful candidate also will contribute to the Department's teaching mission through our graduate and undergraduate programs.
Located in the heart of one of the world's great cities, UIC is Chicago's only Carnegie Research 1 public university. UIC is federally recognized as a Minority Serving Institution (MSI) through its status as a Hispanic-Serving Institution (HSI) and an Asian American and Native American Pacific Islander Serving Institution (AANAPISI). The Department of Biological Sciences encompasses a broad range of research, houses the largest major in the College of Liberal Arts and Sciences, and is committed to the continued hiring of diverse and outstanding new faculty. Microbiologists in our department study microbial ecology, host-microbe interactions, gene regulation, cell-cell signaling, microbial structure and more. They also collaborate with colleagues across departments and colleges and engage with the rich scientific community in the Chicago area through various interest groups.
For full consideration, please complete an on-line application, including the names and email addresses of three references, and upload a letter of application indicating qualifications, a vita, a teaching statement, a diversity statement, and a summary of future research plans at https://uic.csod.com/ux/ats/careersite/1/home/requisition/1984?c=uic by January 31, 2023. Final authorization of the position is subject to availability of funding.
The University of Illinois at Chicago is an affirmative action, equal opportunity employer, dedicated to the goal of building a culturally diverse and pluralistic faculty and staff committed to teaching and working in a multicultural environment. We are committed to equal employment opportunity regardless of race, color, national origin, sex, religion, age, sexual orientation, gender identity, Veteran or disability status.
The University of Illinois may conduct background checks on all job candidates upon acceptance of a contingent offer. Background checks will be performed in compliance with the Fair Credit Reporting Act.
The University of Illinois System requires candidates selected for hire to disclose any documented finding of sexual misconduct or sexual harassment and to authorize inquiries to current and former employers regarding findings of sexual misconduct or sexual harassment. For more information, visit https://www.hr.uillinois.edu/cms/One.aspx?portalId=4292&pageId=1411899
Modified on November 03, 2022