2018 Graduate Student Research Photo Art Competition Winners
158 photographs were entered into this year's competition. A committee of faculty, graduate and undergraduate students, postdocs, and staff reviewed the randomly numbered entries and chose 15 winners, each of which awarded the photographer $300.  This slideshow showcases a sampling of the winning shots.
Upcoming Seminars
Tuesday , 12:00 pm - 1:00 pm
4289 SEL
Friday , 2:00 pm - 5:30 pm
SPH/PI Building School of Public Health & Psychiatric Institute Room 109
Thursday , 4:00 pm - 5:00 pm
4289 SEL
Meet Kaylee George!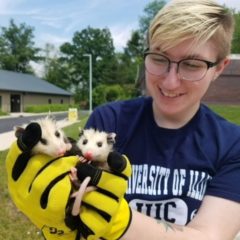 My daughter Kaylee (BIOS '20) has had an amazing experience at UIC so far. She has volunteered this past year at the Field Museum and the Notebaert Museum with hours in the triple digits.  This summer she is an intern with the Naperville Police Department in the Animal Control division. She is one excited biology major! Thank you for all you have done to further ignite her passion and afford her three volunteer positions where I am confident the UIC connection mattered.  She is UIC proud and we are very proud of her!

Proud Parent of Kaylee George

|
Pride Points
#1825 Students declared BioS majors for the Fall '18 semester. The College of Liberal Arts and Sciences showed a record enrollment gain of nearly 4% from last year.

73rd US News & World Report, UIC's Department of Biological Sciences graduate program moved up two places in the ranking to 73rd nationally.
Affiliates of the BIOS Department
News and Upcoming Events
Tuesday , 12:00 pm - 1:00 pm
4289 SEL
Friday , 2:00 pm - 5:30 pm
SPH/PI Building School of Public Health & Psychiatric Institute Room 109
Follow us on social media