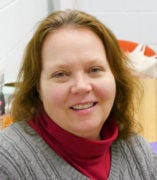 Sandra Gibbons, MS
Lecturer
Biological Sciences
Address:
845 West Taylor St.
Email:
Office Phone Voice:
About
I am lecturer for BIOS 350, general microbiology. As an educator I strive to help students make connections between the content that I am teaching and the real world that they live in. I am very interested in infusing my curriculum with sustainability issues. Environmental and social justice topics are woven into the course. Each semester students participate in a service-learning project.
My past research interests were in the developmental systems in protozoa.
Education
MS, Capella University, 2006.
MS, University of Illinois at Chicago, 1992
BS, University of Illinois at Chicago, 1988